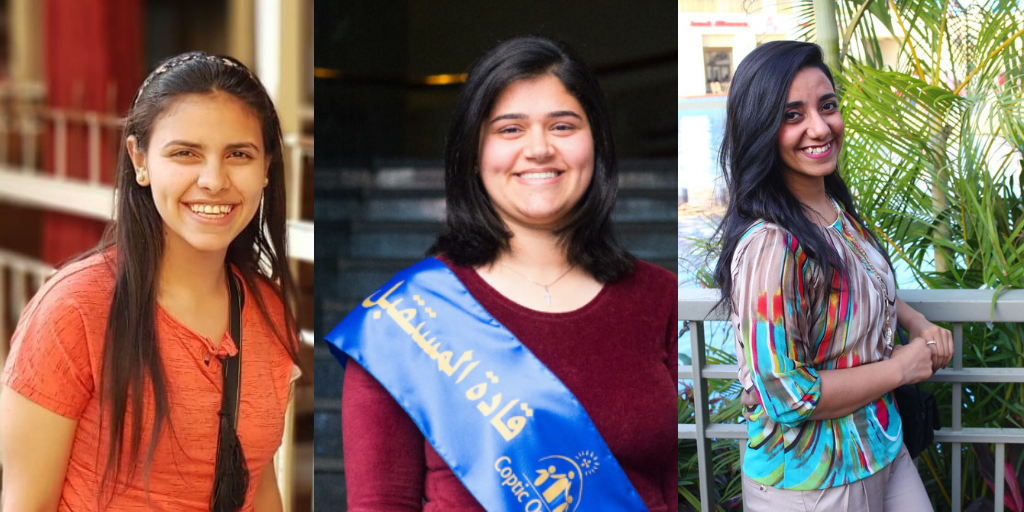 This year, as Coptic Orphans celebrates 30 years of serving Egypt's fatherless children at our anniversary galas, we will recognize three bright young women by honoring each of them with our Leading By Example award. We are so proud of Martina Shenouda, Barbara Adeeb, and Amira Gamil, who faced and overcame seemingly insurmountable obstacles: losing their fathers, suffering severe financial hardship, and struggling daily with the cultural stigmas of being orphaned girls in Egypt. By God's grace, we have seen His mighty hand shape these girls into distinguished women of strength and character through the transformational development work of our field staff and Reps in the Not Alone Program.
Please allow me to share with you the stories of each of these incredible Not Alone participants who represent the best of what our program does.
At only 19 years old, Martina is a shining example of why Coptic Orphans is so committed to education. Martina is from Dronka, Assiut, and in 2013 she joined the Not Alone program. When she joined the program, her educational level was only average and she failed her English exam in school. Martina's Rep arranged for her to get tutoring, and he guided her step-by-step, encouraging her to take an additional English course. On top of her regular coursework, Martina made a commitment to become proficient in English. Due to the support and guidance she received in the Not Alone program, Martina's academic performance substantially improved. In due course she ranked first among her high school classmates. Her persistence in mastering English paid off when she won the prestigious Governmental Universities Scholarship. This honor allowed her to study at Ain Shams University, where she is ranked third in the Faculty of Commerce. Martina is also studying online through two American universities concurrently. Martina plans to give back by improving Egypt's economy through government service and dreams of one day becoming an Economic Minister.
Martina is personable, demonstrates initiative, leadership, confidence, and humility. She is also caring, helpful, and loves to serve others. She participates in the senior citizen ministry in her parish, serves at her church carnival, and during the fast of St. Mary she volunteers at the monastery in Dronka by selling toys for children to raise funds for the monastery.
At only 20 years old, Barbara also validates Coptic Orphans' belief in education as the key to our children's futures. After watching Hepatitis C take her father's life, Barbara was determined to become a doctor. Without her father's income, though, she didn't know how she was going to receive the education she needed. Barbara, who is from Monofeya, joined the Not Alone program in 2012. Thanks to her Rep's ongoing guidance and access to Not Alone's resources, Barbara was able to graduate from high school and enroll in college. Barbara recently started her second year of medical school at the University of Monofeya. Due to her excellent grades, well-rounded character, leadership qualities, and spirit of volunteerism, Barbara was selected as one of this year's Future Leaders. She has already become a change-maker by actively nursing for the sick in her community.
Our third girl who rules, Amira, a young girl from Cairo, always dreamt of becoming an engineer. But with her father's untimely death, her dreams seemed all but gone. In 2009, the Not Alone program partnered with Amira to help her continue the pursuit of her dreams. All these years later, Amira is now a third-year architectural engineering student at the Faculty of Fine Arts. Her dream will be fulfilled after all. Because of the Not Alone program's role in developing Amira's skills, nurturing her talents, and inspiring her to do more volunteer work, Amira has principally excelled in acquiring a spirit of service. She is an embodiment of volunteerism by teaching hymns at her church, art classes to children, and helping her Rep organize workshops for other Not Alone participants. As an architect, Amira will be building the future of her community and laying the foundation for a better and brighter Egypt.
We are excited to honor these amazing young women with this year's Leading by Example award at our Toronto, Washington, New Jersey and Los Angeles 30th Anniversary galas. Please join us as we recognize their achievements and affirm the truth that girls really do run the world!