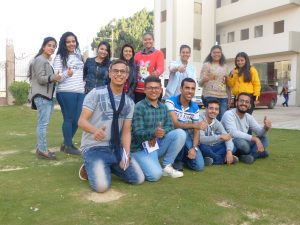 Dear Friends,
I pray that you had a blessed start to your new year, and continue to witness God's gracious blessings as we approach the joyous Feast of the Nativity in just a few days. With the culmination of 2017 behind us, we are encouraged by the goodness of our mighty God as we saw His hands work through our children, mothers, and volunteer Reps this past year. I wanted to share with you some of the wonderful highlights from this past year, so you too, could share in our joy.
At Coptic Orphans, we believe that growing a new generation of leaders is the key to survival of our Coptic culture and community in Egypt. Fundamental to nurturing new leaders in Egypt, is education; particularly higher education. I am happy to report that during 2017, 361 of our bright youth were Thanaweya Amma students and 235 students from Not Alone graduated from university! This is by no means an easy accomplishment, as our youth have faced many challenges including the insurmountable fate of losing one or both parents, in the midst of living in poverty during the rising economic crisis.
Despite this, many of our hard-working young men and women have won key scholarships for public and private universities, English language scholarships, among others. We introduced the Future Leaders Initiative to capture and highlight the additional activities and initiatives taken by Not Alone's specially trained staff and Church-based volunteer Reps, to identify the most promising and distinguished participants. In 2017, of our many distinguished students, 34 received Future Leader Scholarships, which helped equip them to excel and reach their full potential to become future leaders and change-makers in their communities.  These scholarships played a huge role in boosting their self-confidence, helped them feel valued, and enabled them to make their dreams of obtaining a higher education become realities.
We are so proud of all our children, and especially of our distinguished students—not only for their determination to excel and succeed in their studies, but also because they each chose to selflessly give back to their communities by volunteering with their local churches or universities in more than one activity throughout this past year.
In other exciting news, by God's grace and your generous support, 932 new children joined our Not Alone program in 2017. We look onwards to this New Year and are hopeful of the amazing things God has in store for each one His children.
Then He who sat on the throne said, "Behold, I make all things new." And He said to me, "Write, for these words are true and faithful." And He said to me, "It is done! I am the Alpha and the Omega, the Beginning and the End. I will give of the fountain of the water of life freely to him who thirsts. He who overcomes shall inherit all things, and I will be his God and he shall be My son." Revelation 21:5-7 
One Body in Christ,
Nermien Riad
Founder and Executive Director