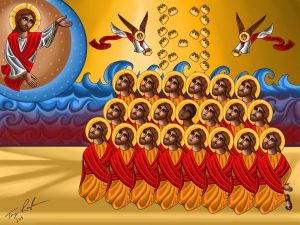 Dear Friends,
In July 2015, I shared with you that we learned that 10 of the 21 martyrs who were killed in Libya, had left behind 19 children. We spent a lot of time carefully looking at the children and their situations.
We discovered that all of the families, by God's grace, were benefitting from great generosity from both the Egyptian government and people all over the world. These families were given many resources that would help meet their day-to-day needs and was to be shared among the martyrs' wives, children, parents, and their unmarried siblings. Coptic Orphans also committed to standing with these children—not just by providing financial resources —but also by enrolling the 19 children into our Not Alone Program.
But what's really valuable — and transforming — is our Reps' work to mentor the children of the martyrs, promote their self-discipline and resilience, instill a strong work ethic, and support their education. That is real long-term development, not charity.
Our Reps were prepared to give each child of the martyrs the love and mentoring they needed after tragically losing their fathers. Their families also receive the wider support we offer to all of the program's families, such as workshops to help widows manage their finances, and to empower them to support their children.
We had mentioned three years ago that we'd only know the final results of these efforts when these children grow up. But as we commemorate the anniversary of the martyrs, I wanted to share an update about one of the families of the 21 martyrs. For Emad, Mariam, and Karmina,* their father was one of the martyrs, who faithfully called out Jesus' name as he was killed on the beach in Libya. He was survived by his wife and children, ages 22, 20 and 14.
At the time of his father's death, Emad, the middle-child, was in his last year of general high school. When he first joined Not Alone, his Rep encouraged him, and provided him with the emotional and psychological support needed to get through the trauma of his father's death. His Rep worked through the trauma Emad experienced, and turned his tragedy into pride for his father.
Emad's Rep also worked with him and his sisters on getting through their education despite their real-life difficulties. He made Emad aware about scholarship opportunities available post-graduation. This encouraged Emad, who ended up scoring 90.5% his final year of general high school. Since he did not want to live apart from his family, Emad made the decision to forgo the scholarship opportunities available at universities in other governorates, and enrolled in the Faculty of Commerce at Beni Suef University. Emad successfully completed his first year and is now going strong his second year.
Our program also helped Emad's eldest sister, Mariam to work through her shock after watching the graphic video of her father's death. Despite this, Mariam's Rep helped her continue through her university education until she was able to graduate and obtain a bachelor's degree from the Faculty of Arts, Mass Communication department. Today, Mariam hopes to work in this same field.
In addition to encouraging Emad and Mariam in their education, their Rep motivated them to participate in the life-skills workshops we offer year-round. They attended workshops on topics such as developing good study habits, emotional intelligence, and the importance of volunteering. Their Rep did not stop there, and also encouraged their mother to participate in two workshops on self-image and teaching volunteerism to her children.
And let's not forget about this martyr's youngest daughter, Karmina. After participating in our workshop on positive self-image, she gained a lot of confidence in herself and proudly stated, "I can do everything – and even if I fail, I will try again and will be able to do it!"
One Body in Christ,
Nermien Riad
Founder and Executive Director