Let me start off by saying that tattoos are not for everyone. Given the more common deterrents such as the pain involved or the potential health risks associated with getting "inked", some might wonder why anyone would willingly choose to permanently mark themselves. For others, tattoos represent a conviction that is as permanent as the ink on their skin. Tattoos often express a person's faith, their patriotism, or the memory of a person or key event. Whatever it is, tattoos can be much more than a fashion statement. 
Armia Zaki, a dental student in Texas who immigrated to the United States from Egypt ten years ago, joined our 2018 Serve To Learn program. In partnership with the Coptic Medical Association of North America (CMANA), Armia spent his summer in Matay, a village in Minya, to teach health education to local children. As part of the three-week program, Armia and his team of peers visited Abouna Abd El Messeh monastery. While there, some of the volunteers decided to get cross tattoos. Since Armia already had the Coptic cross—which many Copts get as children—he mused over what else would be meaningful to always carry with him.
Armia confessed that he often gets nostalgic whenever he thinks of Egypt and his past life there.
"I thought about getting the word "Qebty" (Copt) as something representing both Egyptian and Christian, but since I already had a cross on my wrist, I thought, why not just get the word 'Masry' (Egyptian)?"
Having the writing done in the Arabic language was also significant for Armia, since it would be different than the more mainstream English tattoos others have.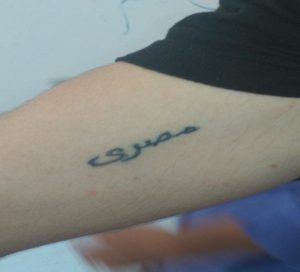 Over the years a handful of Serve To Learn volunteers have gotten tattoos while in Egypt or when they've returned to their home countries. For them the tattoos represent their Coptic faith, their love for Egypt, or distinct memories from their experiences abroad.
One of those who got a tattoo is Mirelle Botros, a former Serve To Learn volunteer who was influenced by what she saw while serving the kids.
"The first thing I noticed while teaching in the classrooms was that every one of my students had not only a cross tattooed on their wrists but also pictures of St. Mary, St. George, and many other saints. When one of my 7th graders asked why I didn't have a cross on my wrist, I immediately looked down and questioned why I really didn't have one.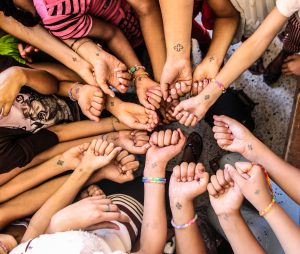 For many, getting the cross tattooed on their wrists or in between their thumb and forefinger is not only a symbol of their faith and unity with other Copts, but it's an ever-present memorial for those who have been persecuted and martyred for the faith. 
For others, it's an opportunity to witness and evangelize. Frederica Mathewes-Green, an Orthodox convert and leading author and speaker, has shared her views on this.
"I want my faith to be visible to the world. For some that might mean wearing a prayer bracelet, wearing a cross visibly, a bracelet of small icons — there are many ways to silently bear witness to your faith. Whether times are going to get harder or insidiously softer, bearing visible signs of our faith will keep us aware that our first allegiance is to Christ. They will remind us and our fellow Christians, and bear witness to powerful despisers, of where our first loyalties lie. They will remind us of the decisions and commitments we have already made, in the sacraments we've received and the worship we offer, and strengthen our conviction that nothing will turn us back." [1]
For Nicole Salib, a recent Serve To Learn volunteer who spent her summer in Matay, it was a bit different. Nicole decided to get her cross tattooed on a less traditional location. She met a priest at Abouna Abd El Messeh's monastery who told her that he had it on his ring finger to symbolize being married to Jesus, the true Bridegroom. Thinking of Christ as her beloved, Nicole emulated this on her own finger.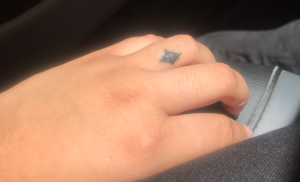 "The main reason I wanted to get this cross, because to me, being a Coptic Christian and having the values that coincide with my religion, can be rather difficult as an American teenager in this time. To me, it's a consistent reminder to act as an ambassador of Christ no matter where I am…..I chose to get this done in Egypt because I was in an area where I was graced to see the Lord in every area I was in, and I did not want to forget it. I was also born and raised in America, so getting to go back to the place where my ancestors and the majority of the Coptic Church get these Coptic crosses done was just a huge baraka (blessing) for me."
And while not everyone may feel the need to display their identities on their wrists, forearms, or fingers; for those who choose to do so, it's an expression that is deeper than words can describe.
Serve To Learn is not just a trip. As volunteers like Armia, Mirelle, and Nicole have told us, it is a life-changing, perspective-altering experience. Volunteers on Serve To Learn are hosted by a Bishop in an Upper Egyptian village and stay in a church guest house, a monastery, or a retreat center. During the day they teach English to the fatherless children enrolled in our Not Alone program; and in the evening, they visit the children's families in their homes. Volunteers also visit the ancient churches of the saints and will get the blessings of the monasteries and convents in Upper Egypt. They will also get to visit ancient Egyptian temples and sites in Luxor and Aswan.
You may or may not come away from Serve To Learn with a tattoo, but the experience will leave an indelible mark on your spirit, the mark of Christ's love.
Applications for the January 19 – February 9, 2019 trip are available at www.copticorphans.org/serve-to-learn. If you know a young adult, I urge you to encourage them to join us. They will be transformed, and you will be proud. The deadline to apply is November 1, and spots are filling quickly, so apply today!
[1] http://copticvoiceus.com/frederica-mathewes-green-getting-a-coptic-cross-tattoo/