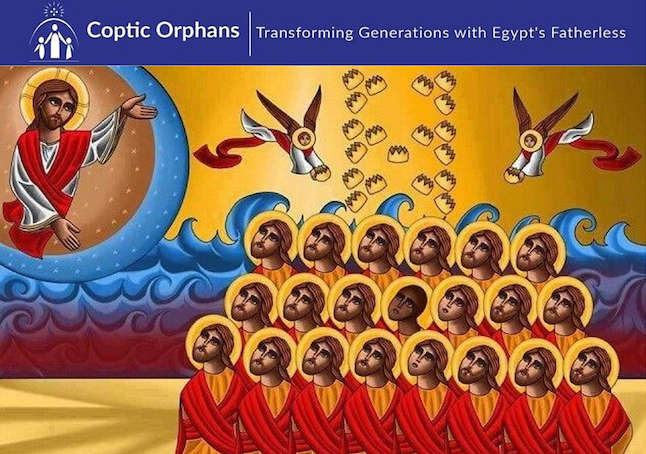 February 15th marks the fifth anniversary of 20 Copts and one Christian man from Ghana who were brutally killed by ISIS for their faith on the shores of Libya—these were the 21 whose death was broadcast to the world.
What brought them to Libya in the first place many have asked. What would inspire such desperation and yet extraordinary courage in these men, who journeyed to the war-torn country of Libya?
The obvious answer ­— economic necessity. These men needed to find work to secure a future for the sake of their children. Today, we are securing their future.
But their children are only one reason; we, as Copts, believe there is a deeper truth: Christ brought them to those distant shores to secure their future. In the days and weeks leading up to their deaths, ISIS captors tried several times to persuade these men to abandon their faith and avoid a gruesome death.
The response: The 21, as they were being brutally murdered on camera for the whole world to see, called on the name of the Lord Jesus Christ. "Lord Jesus Christ," they repeated just as saints did, 2000 years earlier.
Contrary to what their murderers believed, it was the power of Christ that was broadcast to the world that day, not the feeble "strength" of a black flag movement which became synonymous with evil.
For these children, martyrdom is not a symbol, it is a reality engraved upon their lives forever.  Marina and Refka,  the daughters of one martyr, often spoke to their Volunteer Rep Mr. Nessiem about the images they saw in the media. They expressed the mixed emotions they had about losing their father and yet, knowing he is now among the saints in heaven. The girls often felt a sense of inferiority. But after being counseled by Mr. Nessiem, they decided to make a shrine for their father in their home. The shrine displays his cloths, pictures and personal possessions. When their Volunteer Rep. Mr. Nessiem visits, Marina and Refka show him this special place in their home and describe how their father's martyrdom has only made them more determined. When in distress, they appeal to his intercessions, as if he were their own personal saint and advocate before Christ. 
So, each year, Coptic Orphans renews its commitment to children like Marina and Refka who have lost their fathers to violent circumstances such as these. 
Because of you, the children of these martyrs are held within our spiritual embrace and supported through the Not Alone program. 
Thanks to you, the lives of these children are safeguarded and their future secured, just as Christ has secured all of ours through His sacrifice.
Please help us continue to support these children and make a donation today.