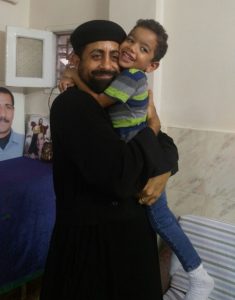 Today's guest post comes from Fr. Michael Sorial, a dear friend of mine and priest serving at St. Anianus Coptic Orthodox Church in central New Jersey. Fr. Michael is the President and co-founder of Agora University, an online private Orthodox Christian university dedicated to the humanities. He is currently a Doctor of Theology candidate at University of Winchester. In today's post, Fr. Michael reflects about his trip to Egypt visiting his sponsored child, a child of one of the St. Peter and St. Paul's church martyrs.
Walking into el-Botrosaya Church, adjacent to St. Mark Coptic Orthodox Church in Abbasaya, was surreal. On one side, my eyes were confronted by the grand structure that is the Coptic Orthodox Church's headquarters in Cairo, Egypt. On the other side, I was preparing to enter a Church that had recently experienced tremendous loss and tragedy. As I passed through the outdoor courtyard of el-Botrosaya, I was greeted by countless pictures of the recent martyrs who lost their lives in the bombing at the Church nearly 2 years ago. This evening I would be visiting the home of three children and their mother who had survived the loss of their father in the fatal events of that day.
Approximately a year ago, when my family was told about the needs of this family, Nermien Riad of Coptic Orphans invited us to begin sponsoring them. She made it clear to us that we should only sponsor this family if we were prepared to be involved in their lives beyond sending a monthly contribution. When we heard their story, we enthusiastically agreed! Soon thereafter we began exchanging letters and gifts with our Coptic Orphans family. My three children prayed for the mother and her three children by name on an almost daily basis.
As I walked into their home that day, I did not know what to expect. My time with the family impacted me in ways I could not imagine. As the eldest daughter shared the events of the day with me – how she held her father in her arms after the bombing and had to cut her hair because it remained stained with his blood – I found myself moved with emotions. I was at one moment both heavy-hearted by what she endured while at the same time moved by her joyous smile and peace that filled the room. Her younger sister walked into the house half-way through the visit, as she was coming from a practice for the end-of-the-summer Church play about how the darkness will be cast out by the light. Although she is only 16-years old, her maturity and confidence in the light of Christ reverberated as she spoke. They expressed no complaints or anger, they did not question why, or feel that they had experienced loss (as they recognized that he was in the great cloud of witnesses surrounding them). These two teenage girls were grateful for – and carried with godly pride – the honor that they were binat el-shahid (daughters of the martyr), Nabil. Their younger brother, now nearly 4 years old, appeared quite timid for the better part of the time I was speaking with his mother and sisters. I realized that the only way I could communicate the Father's love to such a young boy was to speak his language. So I sat and played cars with him, tickled him, let him wear my hat (a3ma), and threw him into the air, catching him on the way down.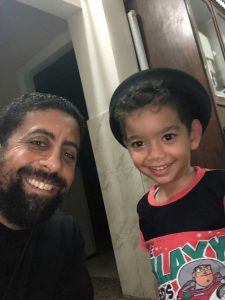 Although my family in New Jersey had an opportunity to have a video call with our family at el-Botrosaya during my visit to their home, I look forward to the day when my wife and children in New Jersey can meet their aunt, sisters, and brother in Cairo. We are grateful to now have a martyr of Jesus Christ in our family. Many thanks to Coptic Orphans for facilitating this truly memorable life moment for us.