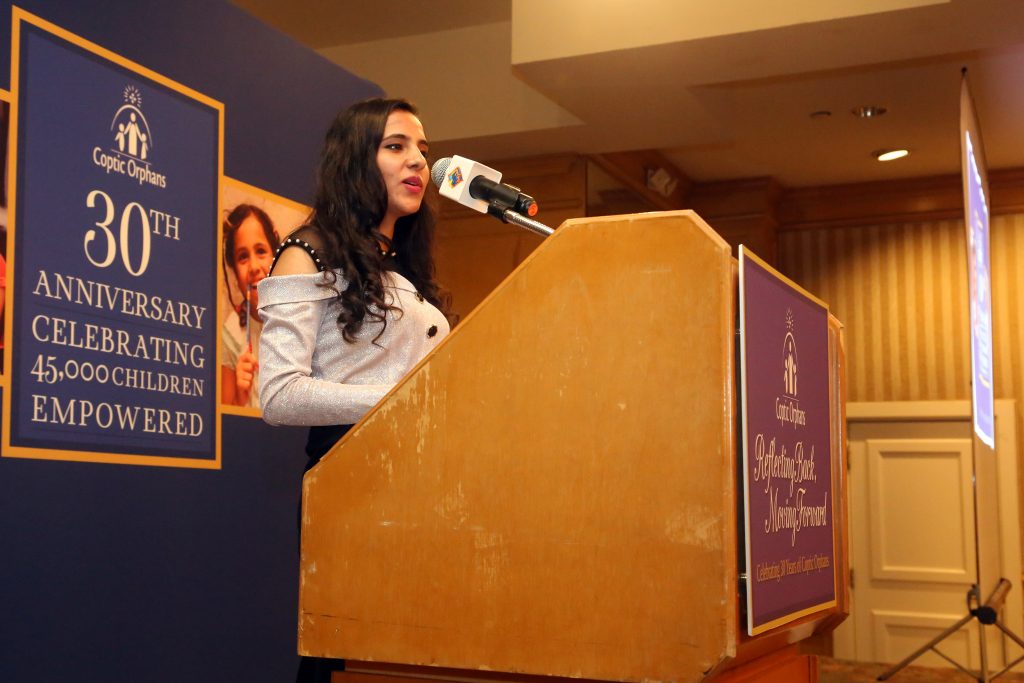 Due to unforeseen circumstances beyond our control, Barbara was denied a visa to come to the United States to attend our 30th Anniversary Gala and accept an honor in person.
Another exemplary student in our Not Alone program, who was fortunately able to travel to the United States in time for our Los Angeles Gala, was Hanan Nabil. Hanan accepted this great honor at our gala on October 28, 2018.
Since we were unaware at the time we published our last blog post on Martina, Barbara and Amira, we wanted to make sure to pay tribute to Hanan's exemplary life as well.
At only 24 years of age, Hanan is the epitome of what the Coptic Orphans Not Alone program represents. She overcame the devastaing effects of losing her father and is now a top student in university. She is already giving back to her community by assisting her Rep in organizing workshops for other Not Alone children. Hanan has also been involved in her parish by leading a Sunday school class and directing the publication and printing of the church magazine.
Originally from Samalout, Minya, Hanan joined the Not Alone program in 2003 after the loss of her father when she was only in third grade. Hanan's Volunteer Rep cultivated her love of learning and encouraged Hanan to commit to wherever her education would lead her. Hanan studied diligently in high school which paid off, as she graduated with honors, scoring 94.4%. She is now studying architecture in Minya University's Faculty of Fine Arts, which is one of the most rigorous academic programs in Egypt! She aspires to a career as an architect. 
Hanan's passion to help the underserved is evident by her Christ-like humble way of life. Through her past experiences, Hanan admitted that she has been able to recognize God's hand with her throughout her brief life.
"God provides for us. He protects us. No one will ever replace my dad, but God sent us Rep Salah who has been like a real father to me and my siblings."
On her first visit to the United States, Hanan surprisingly did not comment on highway congestion, street fashion, or even the iconic skyscrapers in downtown Los Angeles. Instead, she was much more interested in the homeless  people she encountered all over L.A. Her concern for humanity was clearly apparent in conversations with our staff members. Hanan spoke of her dreams; not regarding architecture, but about how she wants to serve the underprivileged. She wants to start a huge organization like Coptic Orphans, one that can embrace all the homeless and street children living in Egypt, and support them in reintegrating into Egyptian society. 
Everyone at our Los Angeles Gala was in awe by Hanan's story as she gave her acceptance speech. She received a well-deserved standing ovation at the conclusion of her remarks by all our distinguished guests and attendees. We are incredibly proud of Hanan and know that she will continue to be a girl who runs the world!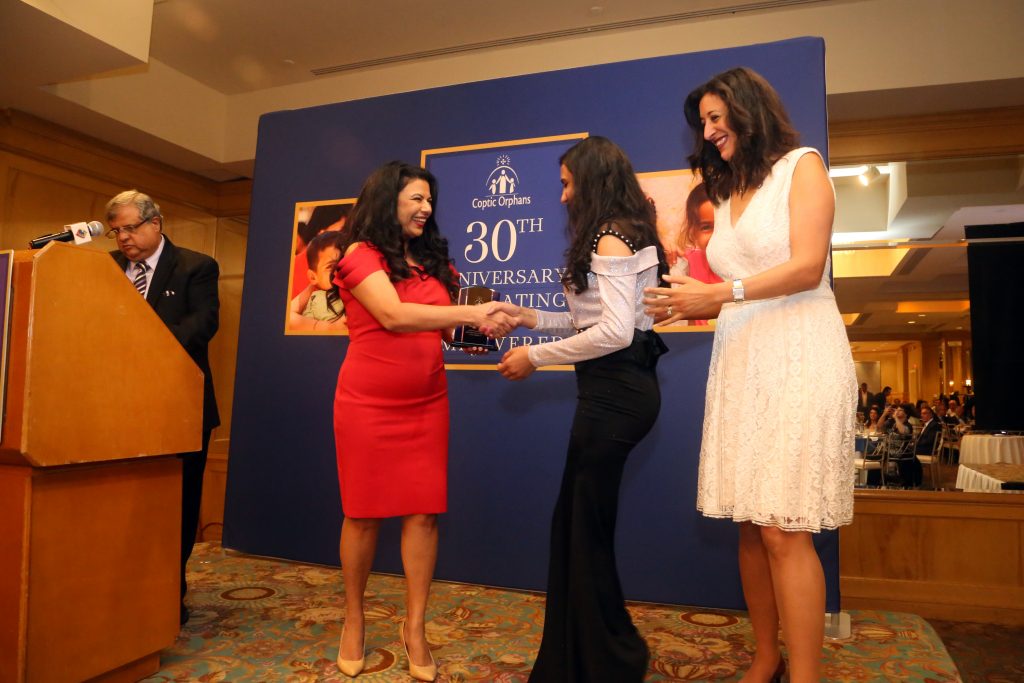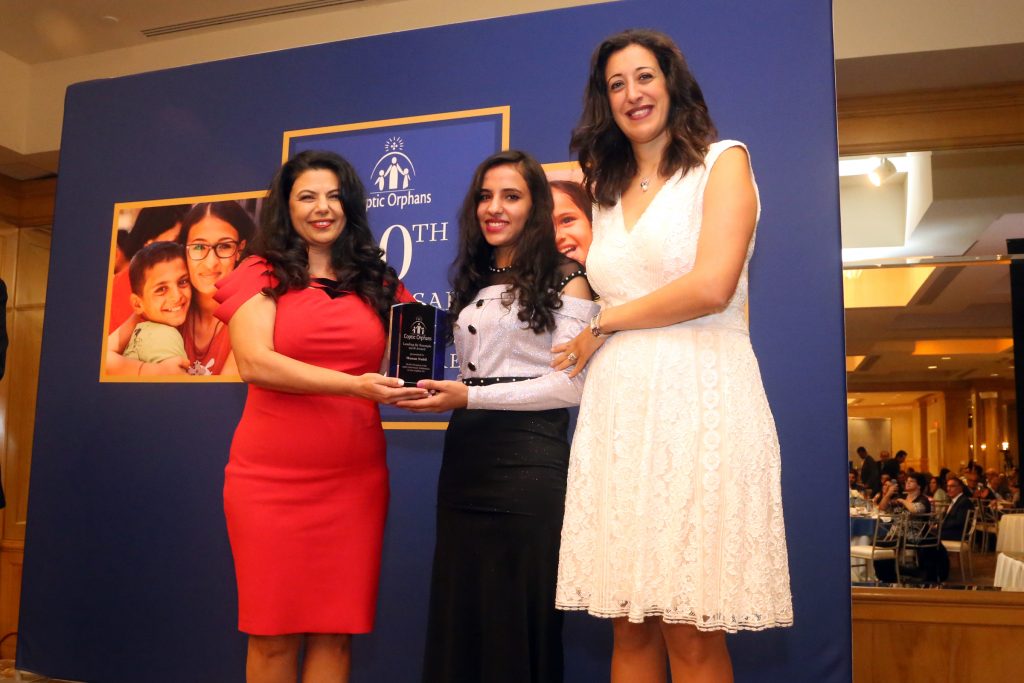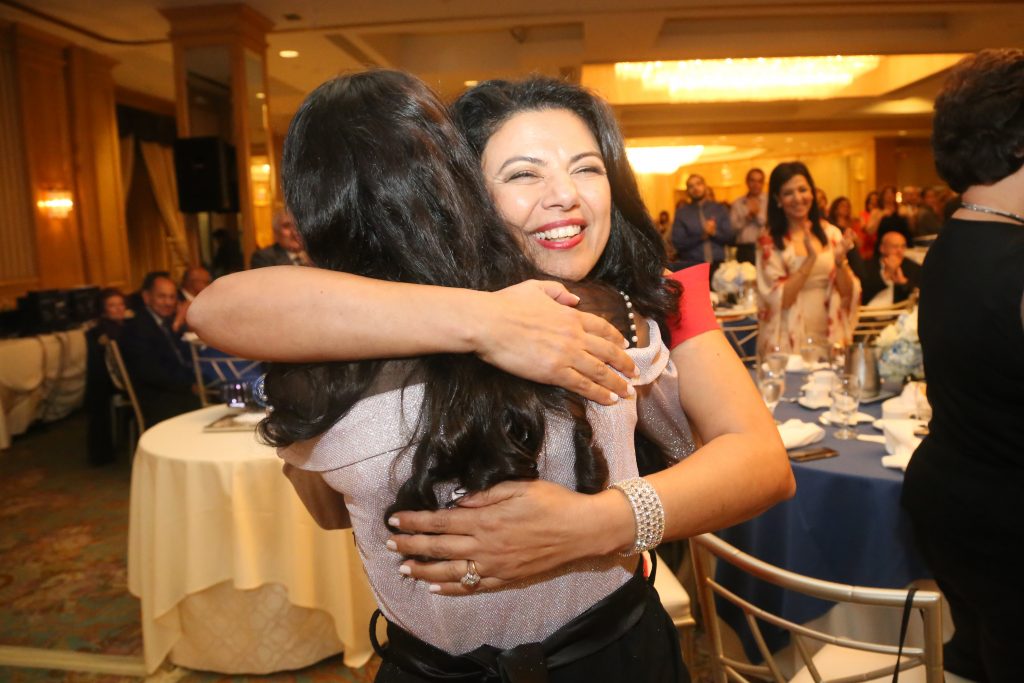 Also pictured below, is Amira speaking at and receiving the Leading by Example award at our New Jersey Gala on October 14, 2018.