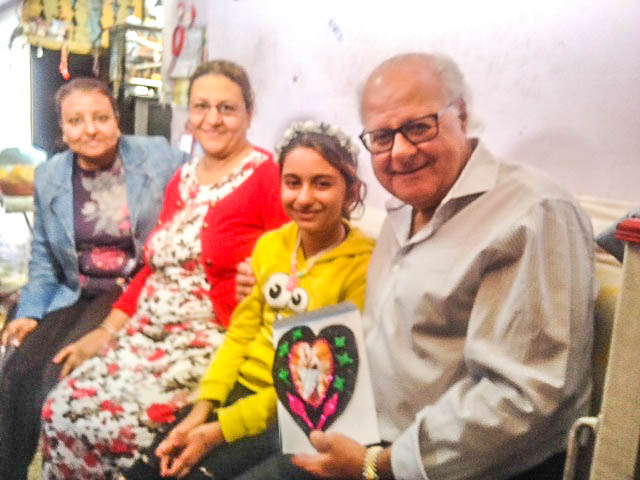 Dear Friends,
I'm so happy to share with you a reflection from a long-time generous supporter of Coptic Orphans, Dr. Kamal Ibrahim from Chicago, who had the opportunity to go on a field visit to Egypt to see our work in action. Here's what he had to say.
– Nermien Riad
 ______________
I traveled to the scenic city of Aswan, along the Nile River, located at the southern tip of Egypt where the weather is unusually warm, but the charming view of the Nile leaves you breathless.
Nermien Riad arranged for me to visit a few of the families whose children are in Coptic Orphans flagship program, Not Alone. I'd like to share with you my experience, so that you too may be encouraged to visit Egypt and become familiar with their awesome work.
From the moment I arrived in Aswan, the staff and the volunteer Reps I met were prompt, helpful, and friendly. During the taxi ride, on the way to the visits, I was not only impressed to learn of the Reps' very detailed knowledge of the families they serve, but even more fascinated by their sincerity, genuine enthusiasm, and love for this mission and service.
We visited three families who live in modest apartments, some of which are located in haphazardly created districts. Despite this, the families were appreciative for all that Coptic Orphans offered them. I heard family members repeatedly say, "We don't know what we would be doing without Coptic Orphans, or where we would be." Those words struck me. I noticed that the volunteer Rep is essentially a part of the family and very involved in their decision-making process, which positively affects the children's overall well-being.
Let me tell you a little about the three families I met.
The first family consisted of a mother, a grandmother and a beautiful teenage girl. Coptic Orphans staff recognized the mother's potential and coached her on buying and selling gold products. They helped her obtain a small glass cabinet to display the products from the front of her house. The mother is currently making a profit from selling these items, but more importantly, the entire project has boosted her self-worth from viewing herself as a hopeless widow, to a productive and capable entrepreneur. Her daughter is proud of her mom for becoming an independent woman. Likewise, the mother is very proud of her daughter who ranked at the top of her middle school class. She also obtained an English scholarship for after-school classes, which her volunteer Rep helped her obtain. The lasting psychological effect Coptic Orphans has had on this girl was so noticeable. She did not just appear to be happy and loved, but is growing into a proud young woman and leader, with great dreams to become a doctor in the future.
At the second home I went to, I learned that after her husband's passing, his wife became a widow and was left alone with no financial support to raise two adolescent children; a young male and female. However, they would soon not be alone. Coptic Orphans learned of the family and stepped in to support the three family members by enrolling them in the Not Alone program. I learned that the young girl was at first shy and introverted, but that the Rep worked with her psychologically, alongside the financial and emotional support she provided, planting seeds for her to soon blossom. The tangible arrangements made by the Rep for private tutors and academic support additionally boosted the girl's performance and character. When I visited her, I found an assertive teenage girl who is both confident and capable of engaging in any discussion securely. Additionally, I learned that when her brother needed extensive medical intervention and once again, Coptic Orphans stood beside them – all the way – including facilitating a means to receive treatment far away from their home in Cairo. Yet again, I heard the praise and appreciation from the entire family for Coptic Orphans' work and support with them.
Lastly, I visited another family of teens who lost their father and were living with their mom in a modest home. In addition to Coptic Orphans' usual work of providing financial assistance, academic and emotional support –what I was really amazed to see was that they did not stop there and went beyond to improve the living conditions of the family. The Volunteer Rep told me that the house was an unsuitable environment to raise the children. Since its condition would interfere with the youth's productivity and would likely affect their success, Coptic Orphans helped the family renovate their house to make it more comfortable and enjoyable for the children to be able to continue their studies.
Overall, my trip was enlightening and made me recognize God's hand working through the development Coptic Orphans provides children. God willing, I plan to visit more of these homes the next time I am in Egypt, and encourage you to reach out to the staff to plan your next visit as well!