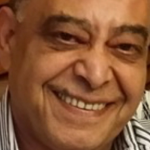 Dear Friends,
There is great sadness in my heart for the passing away of Dr. Fayez Michel, but with that sadness I also have great hope in, and knowledge of the resurrection of our Lord, God, and Savior Jesus Christ. I want to offer my sincerest condolences to his family and friends, and to say that while we mourn his passing, I am heartened by my knowledge of his generous heart and his love for the children in Egypt.
Dr. Fayez was a long time supporter and father figure in the lives of the fatherless children we serve in Egypt whose love for them extended even after he departed to be with his Father in heaven. Starting in 1996, Dr. Fayez, who lived in Miami Florida, began supporting the children in Egypt by donating generously. His love gave life to countless children who, due to the loss of their fathers, were otherwise doomed to turmoil and poverty. Because he was born in, and lived in Egypt, Dr. Fayez knew the struggles of the widows and orphans there well, and, after coming to America, he did not forget them. He continued to faithfully support Coptic Orphans and the children until his recent passing, building meaningful relationships with the children and encouraging them through moral and financial support.
Soon after Dr. Fayez's passing, his family reached out to me to let me know that in lieu of flowers, they have asked all of his loved ones to give a gift to Coptic Orphans, the organization that he supported for the last 21 years in his honor. They told me that he would have wanted this, and they also told me to make sure that others know that they can do the same.
At their request, I want to let you know that you too can ask your family and friends to give a gift to Coptic Orphans in honor of a loved one. To do that, just direct them to our website: www.copticorphans.org where they can make their donation. If you want to find out about other ways you can share your special occasions with the children in Egypt, visit: https://copticorphans.org/occasion-giving/.
You can dedicate your wedding, the baptism of your child, or, like Dr. Fayez's family, the passing of a loved one to support the children. By doing this, you invite others to spread joy and comfort that will live on in the lives of the children in Egypt.
May God bless you, and may the love and generosity that you show in your life continue on forever and ever in the lives of all of other members in the Body of Christ.